Sustainability
CAO is firmly committed to creating long-term value for itself, its stakeholders, the communities where it operates as well as the environment. To fulfil this aim, the Group ensures that high standards of corporate governance, compliance and internal audit as well as robust risk management are deeply entrenched within the organisation through a comprehensive business sustainability plan. It is CAO's fundamental belief that its growth and success must be anchored on key principles of integrity, transparency and accountability and this belief is ingrained in the Group's corporate culture. At the same time, CAO is keenly aware of where its business activities can make the most positive impact, grounded by its conviction that success at CAO is measured not just by its financial performance but also the values it creates for its workforce, business partners, the environment and the community at large. CAO strives to build a dynamic and engaged workforce that allows employees to reach their full potential and support the changing needs of its business landscape. CAO continues to build on the trust of its customers and business partners through delivering value add and adopting responsible procurement and security practices. Furthermore, CAO cares for the community and environment through minimising the damage to the environment. Together, these form the essential building blocks of CAO's sustainability development programme.
Corporate Culture
Corporate Values

Integrity is the foundation of our conduct and business dealings, with Fairness and Transparency as guiding principles. Innovation fuels our engines for growth.

At CAO, we are committed to inclusive practices in the way we employ, develop and treat employees, underpinned by the Corporate Values of Fairness, Integrity, Innovation and Transparency, with a focused people strategy to cultivate a safe and inclusive corporate culture where employees can positively contribute to the sustained growth of the Group.
Engaging People

As the Group expands and globalises its business operations, we recognise that engaged employees are key to CAO's competitiveness. Their motivation, talent, experience and performance are crucial to the successful development of the Group. To foster a diverse, collaborative and mutually supportive corporate environment, CAO strives to provide various activities and initiatives to engage CAO employees throughout the year.




Developing & Managing a Global Talent Pool

CAO is strongly committed to drive sustainable business growth and values the expertise and experience that come from its global workforce. In order to maintain the Group's competitive advantage in the global communities where we operate, we constantly seek to attract, engage, and retain a competent, motivated and flexible workforce by supporting and providing education, training, career planning and advancement opportunities, enabling the Group to build the right balance of core competencies and capabilities required to achieve our strategic goals.
Diversity & Equal Opportunities

The Group believes that a fair, diversified and inclusive workplace is integral to CAO's success and that a diverse workforce with specialised, complementary skillsets, ideas and experiences enriches the workplace and enhances business performance. With the belief in supporting the Group's long-term business goals, we strive to develop a diverse workforce and formulate an inclusive working environment where all employees feel valued, have opportunities to advance and are driven to succeed.
CSR
At CAO, we take on social responsibility consciously, and are committed to operating responsibly and doing our part for the community to contribute meaningfully. Our Corporate Social Responsibility ("CSR") and business strategies are tightly integrated, and through effective CSR outreach, the Group is invested in the global communities where we operate and endeavor to provide learning opportunities for children in need as well as support environment-related initiatives to create value and enable progress in society.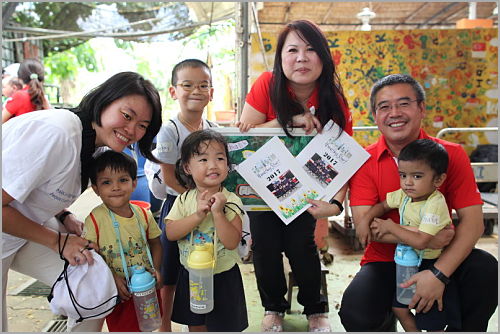 Community Investment

CAO's approach to drive CSR initiatives is mainly through collaborative and strategic partnerships with government bodies, non-government organisations and community groups with sound track record in respective fields and is committed to fostering positive engagement through supporting charitable and social causes we believe in. For the past eight years, CAO has been involved with non-government organisations and community groups including Beyond Social Services' pre-school facility – Healthy Start Child Development Centre ("HSCDC"), contributing and supporting educational initiatives for less privileged children from Singapore's Bukit Merah and Redhill neighbourhood estates to make a difference in the local community.




CAO volunteers removing creepers at Admiralty Park
CAO volunteers spending time with HSCDC pre-schoolers at experiential play museum Playeum

Environmental Sustainability

As the Group's business expand globally, we are also keenly conscious of our social responsibility to contribute to a sustainable world through supporting environmental sustainability efforts in the communities where we operate.

Over the years, CAO has actively supported green initiatives and contributed to environment conservation efforts with biodiversity preservation activities such as tree-planting at Sungei Buloh Wetland Reserve, weeding and removing of wild creepers in the forested areas at Admiralty Park in Singapore and partnering with National Parks Board ("NParks") of Singapore to develop a series of themed educational videos to create awareness of the rich biodiversity in urban Singapore.


Sustainability Commitment

CAO has a strong commitment to operate responsibly and holds itself accountable to be a socially and environmentally responsible company to ensure the healthy, sustainable and rapid growth of its core businesses. Moving into the next growth phase, the Group remains committed with a focus on sustainability and preserving environmental resources across its businesses to positively impact the global communities we operate in today.

Waterways clean-up by CAO volunteers